Yearbooks are fun-filled reminders of the school year jam-packed with memories, treasured classmates, helpful teachers and staff. They should make you smile and look back on the fun times you had in school.
Themes can elevate a yearbook to make it memorable and unique. Creating a cool theme can help bring all the year's photos and yearlong memories together. On the other hand, figuring out the theme can be a bit daunting.
Below are some ideas of how to create an interesting theme and how to weave it throughout your yearbook to make it really stand out.
USE WHAT YOU HAVE
School Annual Online has preset themes! This is a fast and easy way to start using a theme in your yearbook. There is a huge selection of clipart with backgrounds and headers to help you use your theme throughout the yearbook.
Take a look and see if any of their themes could work for you. If you don't see something that you would like to work with, there are TONS of different ways that you can come up with a fun theme on your own. Here are some unique ideas.
FUN WITH COLOR
Choosing school colors or a general color palette is an easy way to start using a theme in your yearbook. The colors of your school can be scattered throughout the yearbook for a very simple yet polished theme. It can be as simple as just using a color as a background or sidebar, or you can take it a step further by using the colors in your headers and titles. Sticking to a general color palette can produce a seamless and sophisticated book. For more tips and tricks on using and sticking to color palettes,
click here
.
WHAT'S THE HAPS?
Take a look around in your school culture or child's life. What are they OBSESSED with right now? What is the "hot" toy or phrase of the year? Things such as selfies, emojis, superheroes or even sports are universally popular.
Once you have a few ideas, brainstorm what types of things you can incorporate into the yearbook. See which one makes the most sense and run with it!
LOOK AROUND YOU
If there is a specific mural or piece of artwork that represents the school, think of ways that it can be incorporated into a theme. If there is not an outstanding image or piece of artwork that represents your school, try using student artwork.
For example, one year our yearbook featured a beautiful mural created by all of the student's artwork. Each student decorated a puzzle piece and it was turned into a beautiful mural. The idea translated into a theme as puzzle pieces were used down the side of every page and in some cases as backgrounds.
FUN WITH MASCOTS
Using your school mascot is a nice way to incorporate a bit of fun and school spirit into your yearbook. This is also an excellent way to reduce white space. Let's say your school mascot is an owl. If you have any white space, you can add different images of owls to that white space. It adds a fun little character that kids can look for on pages.
STUDENT COVER ART
Some schools hold a cover art contest where students design and submit their own original cover art. The winning cover art could be translated into a theme. For example, our school once had a winning cover art design with the word "star" in it. We took this opportunity to extend that cover and translated it into a theme. We used galaxy backgrounds and space and planet clipart throughout the yearbook.
Check our our blog post on how to run a cover contest here.
For all of these ideas, School Annual Online provides endless amounts of clipart, backgrounds etc. to help you create the theme of your dreams. Don't know where to start? Jot down ideas that excite you, contact your School Annual Account Representative and explore all of what School Annual Online offers. You will be sure to find and execute a unique theme that everyone will love.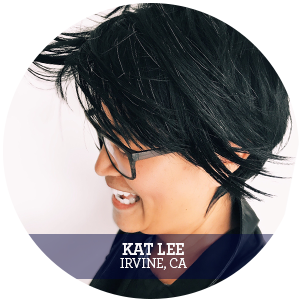 Lives in Orange County, CA and works as a career coach helping people find their passions.
"The best part of creating the yearbook for my school is the look on the kids' faces when they start to look for themselves in the yearbook."
KAT'S INSIDE TIP: Always bring a camera when you go to your school.
If Kat had a super hero power she would love to have the power to make people do what she asked them to.