It's yearbook crunch time! Yearbook advisors across the country are now busy trying to squeeze every possible school event, photo and milestone into their book before deadlines hit. If this includes you, you might be searching for a little extra motivation and inspiration. There's nothing better than a good yearbook playlist to keep you and your team energized for the road ahead! In no particular order, here are the top eight essentials for my yearbook playlist.
The Eye of the Tiger by Survivor
We are risin' up to challenge of our yearbook and we certainly have the guts to get the glory. We go the distance and we're not going to stop. We will survive because we have the eye of the tiger!
Don't Stop Me Now by Queen
Don't stop us now because we are having such a good time! We are having a ball, cutting and pasting it all. We are traveling at the speed of light as we work all through the night. So don't stop us now!
I'm Still Standing by Elton John
Anyone who has worked on the yearbook knows it takes long hours and dedication. We are still standing! We're still standing better than we ever did. We're a true survivor, feeling like a school kid. We're still standing after all this work, pasting all the pieces of our year with timelines on our mind.
Glitter by Tyler the Creator
Fireworks going off as we create page after page of beautiful memories. These pictures are the ones we need in our life 'cause we love having them around. Feelin' glitter, feelin' good and great because we got our photos and we are going to town!
Uptown Funk by Bruno Mars
We are too hot! Call the police and the fireman 'cause yearbook memories we are giving to you. Don't believe us? Just buy it!
Blinding Lights by The Weeknd
No, we can't sleep until the book is done. We are drowning in the night and running out of time. We can see the sun lighting up the sky and we are kicking it into overdrive.
Le Festin by Camille from Ratatouille
You don't have to speak French to love this melody. We are nervous, excited, just read the marquee! A school year of memories, suddenly free! Our yearbook is waiting for thee!
My Way by Frank Sinatra
The end is here and we face that final submission. We created a book that's full and traveled each and every hallway. There's much more but in the end we did it our way!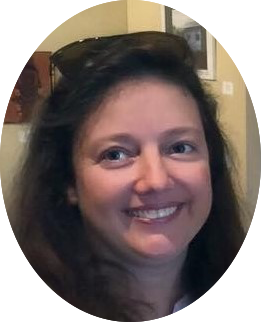 Lives in Virginia and teaches digital video to at-risk students.
"The best part of creating the yearbook is showcasing my students and all the amazing things we did during the year!"
If Debbie could only eat one meal for the rest of her life, it would be crab legs!
Her go-to karaoke song is "Summer Nights" from Grease.