The saying goes, don't judge a book by it's cover, but in most cases, we all do! The yearbook cover is no different. At my school, we have tried a few different types of covers and have always been happy with how it turns out. See some of my tips and tricks below.
PRE-DESIGNED THEME COVERS
The easiest covers by far are preset ones that go along with the assortment of themes that School Annual already has built for us. When first starting out, this seems to be the easiest and best way to have a cohesive yearbook theme. Check them out, here, there are lots of different and current styles to choose from!
STAFF OR PARENT COVERT ART
Staff covers or parent covers are also great. Maybe there is a teacher or parent who is an amazing artist and they are willing to draw a cover for the school. You can let them know the theme and they can work on a piece of artwork that can be used for your cover. In some cases, there may be a teacher who is also great with graphic design and they can be helpful in creating a one of a kind cover for your school.
HAVE A COVER ART CONTEST
We really love having the entire school be a part of our cover making process. We have an annual school cover art contest and all of our students kindergarten to sixth grade participate in the contest during class time. Timing wise, we usually have our teachers plan a couple of hours and the kids get to draw what they think will win the cover! The teachers go over the theme and what it means before hand and talk things over with the kids so they really understand the concept of the yearbook's theme for that year. See our blog post on how to run a cover contest here.
YEARBOOK COVER CONTEST TIPS
Make sure to explain the theme and/or concept – if you have one, especially to the lower grades.
Ask them to make sure their photo is bright and not dull – sometimes outlining in black is helpful for certain parts of their photos.
We made the decision for students to not all the title to their photos after receiving too many misspelled words or titles that weren't easily read.
Have the students fill the entire page – sometimes too much white space doesn't make for a good yearbook cover
Give them a heads up on the theme itself so they can formulate ideas and come up with a general plan for how they will draw the cover.
YEARBOOK COVER CONTEST EXAMPLES
School mascot
Superheroes
Comic book
Outside of the school
Sports themes
OTHER IDEAS
Run a photo contest and have parents submit photos from a school event, or a photo of the school mascot, or something fun that relates to the school.
Use photos of kids – have a variety of kids photos to use on the yearbook cover to give everyone a glimpse of what might be inside!
Your cover is only limited by your imagination. Have fun with it and it will shine!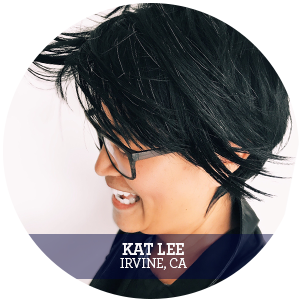 Lives in Orange County, CA and works as a career coach helping people find their passions.
"The best part of creating the yearbook for my school is the look on the kids' faces when they start to look for themselves in the yearbook."
KAT'S INSIDE TIP: Always bring a camera when you go to your school.
If Kat had a super hero power she would love to have the power to make people do what she asked them to.