Ideally, passing the yearbook onto the next person would be a process that could happen over the course of a year, or, better yet, two years. This would include one year to train and one year on to help them while they go through the entire process as the lead.
One year seems much more realistic. At my school, we came up with a game plan that would work over the course of one school year before the current lead Yearbook Adviser leaves. This is our ideal timeline, and I plan on using it soon since my kids will all be done at this school. In the next couple of years, I will be passing the torch!
AUGUST
Website Training: Show them around School Annual Online, so they are familiar with where everything is. Explain the different sections of the website and show them how things work. Work piece by piece so they don't get overwhelmed.
SEPTEMBER
Calendar & Planning Ladder: Review important dates at your school for the yearbook. Go over each event that will need to be covered in your yearbook, as well as some ideas of photos. Our school closely follows the PTA calendar of events and makes sure to get photos and information for all of those events. You can easily use the Page Ladder to set up a timeline of all of the events that will be covered.
OCTOBER
Theme: Go over past yearbook themes that have been used and review past covers as well. Upon review, we noticed that we had 3 years in a row with green cover backgrounds. We decided to switch it up after noticing the trend. Also, review the process for choosing or submitting your cover artwork.
NOVEMBER
Sales: Review yearbook and personal ads processes. Also, connect with your School Annual representative to set up yearbook sales and personal ads online. Our school moved to an online only through Jostens and it has made everything much easier! Less money to worry about!
NOVEMBER
Photos: Explain the best way to organize photos for your school's yearbook. I have a file with all of our current events, and we make folders and/or subfolders for all of them. Next, review how to move photos from Replay It over to each folder for organization. Teach your incoming yearbook adviser how to set up folders for each teachers' photos. Obviously, every person and school organizes differently, but showing the incoming adviser how you do it can help them make the best decision for them.
DECEMBER
Yearbook Pages: Review with them on the process of creating pages in the online software. By this time, you should have First Day, Halloween and Red Ribbon Week photos. Begin creating those yearbook spreads or pages, so your incoming adviser can see how the pages come together.  You can show past yearbook pages for ideas and then work on them together.
JANUARY
Classroom Pages: By this time, we have an idea of how many students are in each class and have your yearbook ladder all plotted out. Now, the class pages can be set up with templates, and the pages laid out before the final portraits are submitted and uploaded for portrait flowing.
FEBRUARY
Practice: Since we're nearing the end of the yearbook process, your incoming adviser should have a really good handle on yearbook creation. Have them design a few pages, such as the holiday and spirit day spreads to make sure they understand how to create and set up all the pages. Be sure to review their work with them, so they can learn as they go.
MARCH
Flow and Submit: You may do this before March, but when it's time, review flowing classroom portraits with the incoming yearbook adviser. Since there are many class pages, you could divide and conquer to make sure they get practice and get done quicker. Once you've proofed and reviewed all pages, review the submission process. Remind them that it's not scary!
APRIL, MAY & JUNE
Celebrate: Hooray! Be sure to celebrate the completion of the yearbook. Also, review any questions they may have about the process.
APRIL, MAY & JUNE
Distribution: The most exciting part of the process! Review your school's process for distributing the yearbooks to all of our students.
THINGS THAT HELPED ME
Looking through past yearbooks.

Learning about the history pages and how if something gets way out of order, you can always resort back to them.

Keeping the templates from the previous year as a starting point.

My contact at School Annual – I have had 2 and they have both been AMAZING!
As with some things, you may not have the entire year to transfer the process over and if you don't, have the person get acquainted with the Yearbook Kit that School Annual sends out to its Yearbook Advisers.  There is a lot of information in the packet that will be helpful to them getting off to a great start. Our school also keeps binders of the major parts of the yearbook (class pages, sales and distribution, cover art contest) and those may help as well.
You could always take the monthly steps listed above and consolidate and shorten the conversations, they won't get the luxury of seeing everything play out and watch how it's done, but it will cover all the bases.
When I took over the yearbook, we had just enough time for me to learn how to add photos to pages and that was about it. I poked around the online yearbook and learned quite a few things on my own, but always had the support of my School Annual contact and we got through the first one I did on my own.
Best of luck with the transfer of the Yearbook Adviser position – it's such a fun accomplishment to complete an entire yearbook and this can help you transition it smoothly.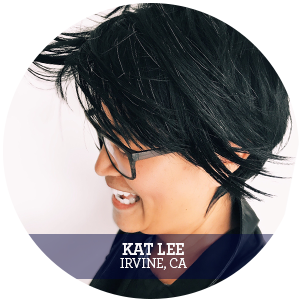 Lives in Orange County, CA and works as a career coach helping people find their passions.
"The best part of creating the yearbook for my school is the look on the kids' faces when they start to look for themselves in the yearbook."
KAT'S INSIDE TIP: Always bring a camera when you go to your school.
If Kat had a super hero power she would love to have the power to make people do what she asked them to.