Yearbook signing parties can be both helpful and fun at the same time! A yearbook signing party is a great way to bring your school together and celebrate the end of the school year and get your yearbooks signed!
Yearbook signing parties can make delivering yearbooks easier for you and can be helpful for students too because they aren't always in the same classes at their friends! We noticed that for our promoting class, it was important for them to get all of their friends and former teachers to sign their last yearbook of elementary school, and they just didn't have time to find friends or teachers in other classes and have them sign their yearbooks during lunch. We made a decision to change that!
There are a couple of ways to host a signing party. It can be done by grade level – having each grade out in the quad or the lunch area or even the multipurpose room. We live in sunny Southern California so we are able to have all upper graders and then all lower graders outside for a larger party. We pass out the yearbooks and the kids run around and get as many people to sign it as possible. If you have a smaller school, you could have everyone at one time!
HELPFUL TIPS & WAYS TO MAKE IT FUN
ADD SOME COLOR
Set out colorful markers and pens for the students to use. Buy a couple variety packs of Sharpies for students to be able to decorate each other yearbook's. It makes it that much more fun!
INCLUDE EVERYONE
The signing party is meant to be a celebration of the school year, and every student should be included, even if they did not purchase a yearbook. Have stapled paper with a title of "Autographs from (Your School Name) and (Year)" handy for students who did not order a yearbook. They'll feel included in the celebration.
THE WHO'S WHOSE
Have students write their names on their books so they don't mix them up with others – they all look the same on the outside. At my school, we provide mailing labels for each student to write their names and classroom on the outside of the yearbook. These could even be pre-printed.
ORGANIZATION IS KEY
Decide the most organized way to distribute yearbooks. At our school, we have lists for each classroom and have them line up to pick up their yearbooks based by class. After they get their yearbook they can start signing away! This cut down on us having to lift heavy yearbooks to each classroom, instead they were all outside on the lunch tables ready to go.
COVER REVEAL
We have a cover contest each year and students don't find out who wins the coveted spot on the cover until the yearbooks are distributed! It's always fun to see when the winner is revealed along with everyone else!
RAFFLE SOME MEMORIES
If you are able to, raffle off a couple of yearbooks so that some of the students who couldn't buy one, have a chance to win one.
PLAY THAT FUNKY MUSIC
Music can make anything feel like a party. Play some music over the loud speaker so it really feels like a fun event.
No matter how you decide to host your yearbook signing party, the kids will have a great time. It's a nice way to have all the kids together one last time before they head off to their summer vacations. Just remember, have fun and they will too.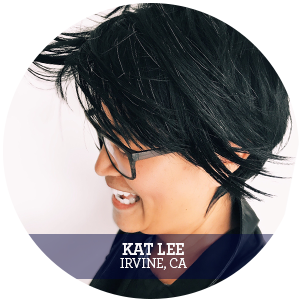 Lives in Orange County, CA and works as a career coach helping people find their passions.
"The best part of creating the yearbook for my school is the look on the kids' faces when they start to look for themselves in the yearbook."
KAT'S INSIDE TIP: Always bring a camera when you go to your school.
If Kat had a super hero power she would love to have the power to make people do what she asked them to.