If you are new to the world of yearbook shopping or are a veteran who is looking for a company that can meet your needs, this post is for you. The basic items to consider when shopping for a yearbook include: price, shipping costs, promotional materials, quality of the book, ease of use (online software) and customer service.
PRICE & SHIPPING COSTS
The first thing to consider is price. The harsh reality of the education world is that everything revolves around the price. If the price is right, then we can consider other features that are important in a yearbook company. Most of us are required to collect three bids before selecting a yearbook company. As you shop around the first thing you will notice is there is a huge difference in price from company to company. Some companies require a minimum number of books in your order and may even have additional fees. Extra fees for shipping and handling can really affect your budget.
PROMOTIONAL MATERIALS
In order to reach your student population, you are going to need promotional materials like posters, flyers, order forms, etc. A high-quality yearbook company will provide you with promotional materials at no cost and make ordering these materials easy for you as the sponsor. Another feature to consider is personalized order forms with your price, ordering information, and even an option to order online. Make sure your company includes these options and your life as a sponsor will flow smoothly.
YEARBOOK QUALITY
Once you have the basics of costs and supplies taken care of you want to find a company who will publish a book that you will be proud to sell to your students. My personal preference is a full color, hard back book. The binding of the book is an important choice and your preference may vary depending on the number of pages.
Quality is important and you want to select a company that offers a high-quality print and cover that will last. You are creating memories that will be cherished for years to come and the book needs to be solidly constructed.
EASE OF USE
Now a days, most yearbooks are built in a digital format so the software program will be an important factor in selecting your yearbook company. Look for themes, clipart, and ease of use when selecting an online platform. Another helpful feature is a staff sign on so that you can distribute the work to your students or yearbook staff but still reserve the right to review it before you accept it for the final publication.
CUSTOMER SERVICE
The last item to consider is the customer service you will receive from your yearbook company. Look for a company that is available when you need them by phone and offers a fast turn-around response time by email. When you have a question or are in a jam, this person is your go-to link for answers, help, and reassurance. The bond you build with your rep will provide comfort during the process and make completing the yearbook just a little easier.
Remember, when you find a company you love, share them with others in your district and state. Yearbook companies may offer a discount if you refer a new school. Good luck on your search for the perfect yearbook company.
Having been a yearbook sponsor for over 20 years, I can tell you that no matter how hard you search, you will not find a better company to work with than School Annual. They are the whole package and I have always been highly satisfied with all their services! If you are new, please tell them Debbie Bohanan recommended you and we will both receive a nice discount.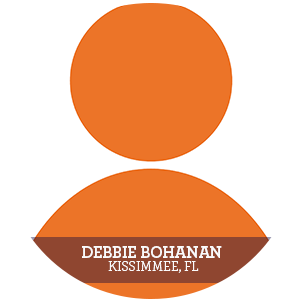 Has been involved with yearbook since 1994 and has been working with School Annual for over 20 years!
Is involved with Discovery Education, DEN STAR, Teach4Learning TIE, MIE (Microsoft Innovative Educator) and much much more!
Lives in Kissimmee, FL as a Digital Video Teacher.
"Sponsoring the yearbook club at the elementary level and having a sleepover in the media center to work on the yearbook all night with the students has been the best yearbook memory."