The last year in any school is a special one. The end of elementary is quite bittersweet as it's often the longest stretch of schooling in one school. There are ways to mark the last year as unique through some of the page topics or even an entire section devoted to this grade in your yearbook.
CREATE SEPARATION
We've divided our yearbook into lower grades and then upper grades and the last grade has its own section. We decided to separate it with a large photo of the entire class of, in our case, 6th graders. This double page photo spread helps to signify the section that is special for our promoting class.
QUICK TIP
Think of unique ways to take the class photo. We've all seen photos where students spell out their graduating year. If you have enough kids, try that or maybe spell out you school name. Be creative in how you present the class, even if it's just a photo from a ladder looking down on the class. Presenting the class uniquely can help the photos stand out more with out much effort.
MAKE THEM FEEL IMPORTANT
Within that section, we also make this class feel important. We have larger photos of this class and next to each of their final elementary school photo, there is also a question that they answer. Past years have included such things as "What I will be doing in 10 years…" and "My dream future would consist of…". It's always fun for the kids to think about what the future holds for them.
OTHER IDEAS FOR "FUTURE" PAGES
What will you be when you grow up?
If you won 1 million dollars, how would you spend it?
What is the best thing about being in fifth grade?
If you were an animal what animal would you be?
What are three words that describe you?
SUPER SEVENS
Since we know that it is rare at our school for students to have attended for all 7 years, we have a fun page spread called Super 7's. We take fun candid shots of this group of kids on the kindergarten playground! We've even had our school mascot make an appearance during their photos.
FAVORITES
We really wanted to make this section stand out, we have also added a Sixth Grade Favorites section. The teachers in 6th grade have the kids vote using a google doc, for their favorite sport, movie, book, and other categories. This is always a part of the yearbook that the 6th graders look forward to checking out in the yearbook to see the result.
MORE PHOTOS, ALWAYS!
The last few pages of the section include our 6th grade Outdoor Ed photos as well as a couple more pages of student candids for just that grade. Any type of event that is specific to just this grade can also be in this section.
Have fun with it and make these students feel like this was an important year – they are on to wonderful things, but their memories from elementary school will also hold a significant place in their hearts.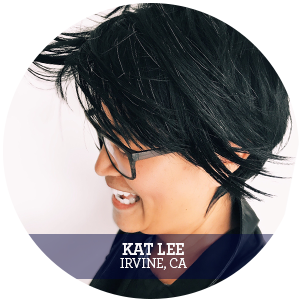 Lives in Orange County, CA and works as a career coach helping people find their passions.
"The best part of creating the yearbook for my school is the look on the kids' faces when they start to look for themselves in the yearbook."
KAT'S INSIDE TIP: Always bring a camera when you go to your school.
If Kat had a super hero power she would love to have the power to make people do what she asked them to.