Congratulations on beginning the journey of creating your school's yearbook! It will definitely be an adventure you can look back on and remember forever (thanks to the memories you immortalize in the yearbook). Here are 10 tips to help as you embark on this great adventure.
THINK BACKWARDS
Look at the absolute end of the yearbook and create a timeline of when things need to be done. Talk with your School Annual Account Representative to find out exact deadlines. You will need to know when your last day of school is and give yourself at least a week and a half before that as you will want your yearbooks delivered before distribution day. Your deadline to submit your pages will be approximately one month before the delivery date and even though it may seem far away, we all know how time flies. Put important dates on your calendar with a big star.
FAMILIARIZE YOURSELF
Reach out to your School Annual Account Representative (again, they are very important people in your yearbook creation process)! Your Account Rep can send you a link to the School Annual Online website with your personal ID and password. From there, log in and check things out.
CHECK OUT YOUR CREATION KIT
The School Annual Creation kit will arrive at your house or school. Within this box are all the tools that you need to create an amazing yearbook, including a thick book that will give you all sorts of different cover ideas, clip art, themes and helpful tips. Read through this book and then go back to the website and see if you can find some of the amazing things that are referenced in the book. Also included are tools that will help with yearbook sales, collecting money and creating personalized sales envelopes. Really dive into the book, it will become your best friend for the next few months.
GET A COPY OF AN OLD YEARBOOK
This can give you a good idea of how the yearbook has been set up in the past and what events have been included. Also, if the parent or teacher that created it is still associated with the school, you might want to set up a meeting with them to see what worked and what they would do differently.
CREATE A PAGE LADDER
Once you have a good idea of what the yearbook should include, start filling in your page ladder. What's a page ladder? It is a list of each page and what exactly will be on it. Try to decide how many pages should be for staff, individual classes and special school events. The page ladder allows you to lay out your whole book so you know how to create each page when the time comes.
PARTNER UP
Does your school have a parent coordinator or another type of family liaison? If so, tap into them first to see if they are willing to help you with the process. It is also a great idea to get a teacher involved because they can help in a variety of different ways. Having a trusted resource "on the inside" is invaluable. For example, they can send reminders, provide you with class rosters, take photos during the school day and aid in other important tasks. You may even want to add both a parent coordinator and a teacher to your yearbook staff. They really have the best connection to the school.
COVER IDEAS
This is by far the most exciting part of the yearbook process. Do you want to have a school-wide art contest to create a cover, or will you use one provided by School Annual and personalize it to reflect your school's name? The possibilities are pretty much endless with covers but this is a great time to think about what you want. Maybe you want a specific theme that really represents your school or you want to create a few and have students vote on their favorite one. You get to decide!
COLLECTING PHOTOS
You can't create a yearbook without pictures, and getting parents and staff to submit photos is SO important. The ReplayIt app by Jostens allows parents, staff and teachers to upload photos throughout the school year to a safe, moderated platform. Before you can share the app with others, it is best to get familiar with it yourself first since you will be the one promoting it. You'll have to input some basic information to set it up, but it should be information you are familiar with (ie. School name, town, etc.) It is super easy! Then, you can share with others how to use and upload to the app. Once everyone realizes how easy it is to upload pictures through the app, the pictures should come pouring in.
PICTURE DAY
Find out who the school photographer is and reach out to them. Find out the date of picture day and how and when the photographer plans on sharing those photos with you and School Annual. Do they send the images directly to School Annual or do they send a CD? It is good to figure this out in advance so you know what to expect after the big day.
HAVE FUN
Knowing that you are creating lasting memories for the students and staff is amazing. You have a great partner in School Annual. They will help you with anything you need, and their tools are user-friendly and provide so many options along the way. Enjoy the process and most importantly, HAVE FUN!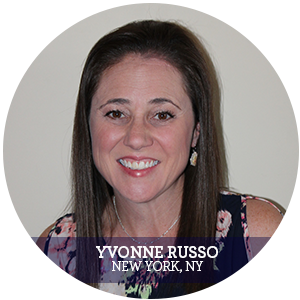 Stay at home mom of 3 active boys living in New York, NY.
Has had a pen pal from Finland for the past 30 years.
Most likely to be drinking Diet Lemon Snapple and snacking on a Peppermint Patty
"I created the yearbook in about two weeks time because I didn't want this group of kids to miss out on having a yearbook…It was a huge sense of accomplishment finishing and getting it done so fast and having the kids so happy with the final product."